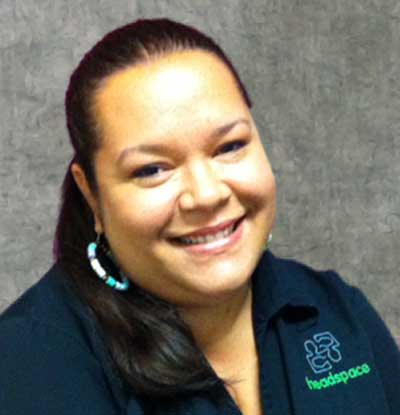 Leilani Darwin is the proud recipient of the 2016 National LiFE Award for Excellence in Aboriginal and Torres Strait Islander Suicide Prevention.
Click on the link to get the news release from Suicide Prevention Australia :  https://www.suicidepreventionaust.org/news/winners-announced-2016-life-awards-excellence-suicide-prevention
Aboriginal & Torres Strait Islander Award, presented by Wesley Lifeforce. The recipient of the Aboriginal and Torres Strait Islander category award is: Leilani Darwin
Leilani is a proud Aboriginal woman who is on a continuing journey to learn about her Aboriginal family history. Driven by her personal lived experience of suicide she has worked hard to build trust and rapport with the young people at Headspace Inala. She works closely with with the Suicide Prevention and Mental Health Program (SPAMHP) and the Inala Elders Corporation, and various other local community organisations.
Through these partnerships, Leilani designed and developed the United Health Education and Learning Program (UHELP) in consultation with the community. This program taps into cultural learning styles and strengths to actively engage Aboriginal and Torres Strait Islander young people in physical, social, and emotional wellbeing promotion activities that incorporate substance use diversion, suicide prevention, and mental health resilience.
It was found to improve the social and emotional wellbeing of Aboriginal and Torres Strait Islander young people, and is an innovative intervention model that specifically addresses the social and cultural realities of young Aboriginal and Torres Strait Islander people.
Leilani has also worked with Aboriginal and Torres Strait Islander Male offenders at a Correctional Centre where she delivered programs which included Ending Domestic and Family Violence. She is a Nationally Accredited Mediator, an Accredited Facilitator of Aboriginal Mental Health First Aid and is Deputy Chairperson, Gallang Place an Indigenous Counselling and Training organisation.
Leilani's ongoing dedication and commitment to prevention of youth suicide, and to helping and empowering local communities to make positive life changes, makes her a worthy recipient of the LiFE Award. We present Leilani with a LiFE Award tonight to commend her for all of her achievements and her ongoing efforts to reduce suicide in Aboriginal and Torres Strait Islander communities as well as to recognise the collaborative efforts of community partners.
https://www.gallangplace.org.au/wp-content/uploads/Leilani-2.jpg
415
400
Ruth Wren
https://www.gallangplace.org.au/wp-content/uploads/logo.png
Ruth Wren
2016-10-11 01:11:42
2017-10-11 01:13:20
Leilani Darwin - recipient of the 2016 National LiFE Award for Excellence